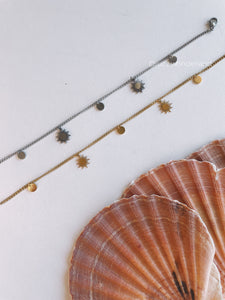 Elevate your ankle game with our exquisite collection of handmade stainless steel anklets that are not only stunning but also waterproof. Crafted with care and precision, these anklets are designed to withstand water activities without compromising their beauty.
✨Handmade✨
Each anklet is meticulously handmade using high-quality stainless steel, ensuring durability and resistance against tarnishing or rusting. Whether you're lounging by the pool, taking a dip in the ocean, or enjoying water sports, our waterproof anklets are built to withstand the elements and maintain their shine.
With a range of stylish designs to choose from, you can find the perfect anklet to match your personal style. From delicate chains to intricate charms, our collection offers versatility and elegance, allowing you to express your unique fashion sense.
✨Adjustable✨
The adjustable length ensures a comfortable and secure fit, while the sturdy clasp guarantees that your anklet stays in place even during active water activities. No need to worry about losing your anklet while enjoying your favorite water adventures.
✨Waterproof✨
These stainless steel anklets not only withstand water but also add a touch of glamour to any outfit. Whether you're dressing up for a special occasion or embracing a casual beachside look, our handmade anklets effortlessly enhance your ankle with their timeless appeal.
Treat yourself or surprise a loved one with the gift of our waterproof handmade anklets. They are perfect for birthdays, anniversaries, or any memorable occasion, symbolizing beauty, durability, and the joy of water-friendly fashion.
If you have any questions or special requests, please don't hesitate to contact us.